Tri-Core Cervical Pillow Review
•
Disclosure: By clicking on the product links in this article, Mattress Nerd may receive a commission fee at no cost to you, the reader. Read full disclosure statement.
The Mattress Nerd's Take: If you sleep on your side or your back, the Tri-Core Cervical Pillow is a great way to relieve neck pain and prevent morning headaches. It's comfortable, effective and affordable. But it is far less effective for stomach sleepers or people who tend to toss and turn at night. Check out the best pillows for stomach sleepers and pillows for combination sleepers for better options.
There's nothing worse than starting your day with a headache or a crick in your neck. Unfortunately, this is a daily reality for many people because their pillows don't offer the right kind of neck support for their sleep position. The Tri-Core Cervical Pillow is specifically crafted to provide proper support to the cervical section of the spine, which is in the neck.
Its unique design includes raised sides and a trapezoid indentation in the center. This trapezoid center cradles the head and keeps the neck aligned with the spine in its natural position to help prevent neck pain, back pain, headaches and more. But no pillow is perfect for everyone. Let's find out if the Tri-Core Cervical Pillow is right for you.
Check out our Best Pillow Guide for a comprehensive look at finding the best pillow for you.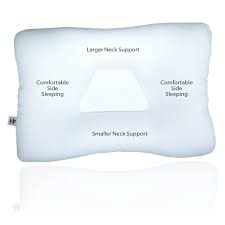 What Makes the Tri-Core Pillow Stand Out
Pros
Relieves Pain:

The best part of the

Tri-Core Cervical Pillow

is that it helps relieve

neck pain

.

Cervical support pillows

are designed to specifically relieve pain in the neck area by providing more support for the

cervical curve

of the spine, which is in the neck.

The

Tri-Core Cervical Pillow

achieves this additional support via an indentation in the middle of the pillow.

This design allows your head to rest comfortably without flattening out the natural curve of your neck. The

side lobes create a great pillow for side sleepers,

specifically because they keep the head level, preventing unnatural positions that lead to

neck pain

. Check out the best pillows for neck pain if your pillow is causing you pain.
Different Firmness Levels: Switching to an orthopedic pillow like the Tri-Core Cervical Pillow can be difficult because they tend to be so much firmer than a normal pillow. Sometimes this just takes a little adjustment, but for some people, the extra firmness of the pillow is just too much. That's why we love Core products so much. They make their pillows with everyone in mind. The Tri-Core Cervical Pillow actually comes in two different firmness levels, Standard Firm (which is firm) and Gentle Firm. The Gentle support option is still firmer than most regular pillows, but it's a good option for people who tend to prefer very plush pillows and may have a hard time adjusting to a support pillow. Regardless of which level you choose, each individual pillow contains different firmness types. One end of the pillow has a firm neck roll, while the other end has a slightly softer neck roll.
Chiropractor-Approved: The best pillow for neck pain is one that has been approved by healthcare professionals who specialize in neck pain, like a chiropractor. The Tri-Core Cervical Pillow was designed with the help of a chiropractor to provide great orthopedic benefits with maximum comfort.
Cons
Poor Durability:

When you buy a new pillow, you don't want to have to shop for a new one in just a few months, but unfortunately, that is a possibility with the

Tri-Core Cervical Support Pillow

. According to

customer reviews

, this pillow lacks

resiliency

and has a habit of flattening out in less than a year.

Many people report that their pillow was very firm and supportive at first, but in less than a year, the fibers had loosened and spread out so that there was

less fiber

in the supportive

neck roll

, making it much less useful for pain relief.
Excessively Firm: Neck support pillows are meant to be firmer than your typical pillow, but there comes a point when the firm support is just uncomfortable. Some people report that the Tri-Core Cervical Pillow runs into this problem. Even with the Gentle option, people said the pillow was too firm and actually caused more neck pain. The Core website addresses this possibility, saying that it's a matter of helping your neck adjust to proper neck support after sleeping without it for so long. The excessive firmness may be resolved by simply switching which pillow you sleep on each night. One night, you sleep with the Tri-Core pillow, and the next you sleep with your old pillow. Alternating has been shown to reduce neck pain induced by transitioning to the increased firmness of a support pillow.
Bad Fit for Stomach Sleepers: The Tri-Core Cervical Pillow is specifically designed to help relieve neck pain, but unfortunately, that design is very unlikely to work for stomach sleepers. This pillow has raised sides and an indented center, which helps support the natural curve of the neck in a back sleeping or side sleeping position.If you sleep on your stomach, then the firm support rolls and indented center are very unlikely to be comfortable or supportive. Instead, they will likely disrupt the natural curve of your neck. Stomach sleepers typically get the best support from a relatively flat pillow, and the neck rolls in the Tri-Core Cervical Pillow are the exact opposite.
What is the Tri-Core Pillow Made Of?
100% Virgin Polyester Fill
Inside the Tri-Core Cervical Pillow, you will find 100% virgin polyester fiberfill. Polyester fill is fluffy pillow fill made from polyester fibers, and it is virgin when it is not recycled. Recycled polyester fill is known as regenerated fill, and it is just as comfortable and effective as virgin fill, just with a smaller environmental impact.
Cotton/Polyester Blend Cover
On the outside, the Tri-Core Cervical Pillow is made from a cotton/polyester blend cover. Together, these materials make the cover tear-resistant, soft and relatively breathable, which is great for hot sleepers.
What does the Tri-Core Pillow Feel Like?
The Tri-Core Cervical Pillow feels like a firm roll on your neck and a comfortable cradle for your head. The combination can feel strange at first, but over time, the support should reduce joint strains, tension headaches and more. The blended cotton cover is soft to the touch, so if you don't want to use a pillowcase, you can sleep directly on the pillow. If you're a hot sleeper, the Tri-Core Cervical pillow sleeps cooler than most down pillows or memory foam pillows, but it isn't quite as cool and breathable as a latex pillow.
If you like to fluff and adjust your pillow throughout the night, the Tri-Core Cervical Pillow may not be the best choice for you because it is designed to stay in a very specific shape for optimal neck support. Typically, it is most comfortable for back sleepers and side sleepers, but will likely be very uncomfortable for stomach sleepers.
Tri-Core Pricing and Specs
Size
Dimensions
Price

Petite/Small Size

19″x12″

$35

Mid-Core

/

Mid-Size

22″x15″

$42

Tri-Core

/

Full-Size

24″x16″

$47
Not sure which size to choose? Read out Pillow Side Guide.
Tri-Core Policies
Shipping
Core Products are made in the USA. The company manufactures its products in Wisconsin and provides free shipping via FedEx, UPS or USPS to the 48 contiguous United States. Your product should arrive in 2 to 5 days. Shipping to Alaska, Hawaii, Puerto Rico or foreign countries is not free because the products must be delivered by air travel. Expedited shipping is available for extra cost.
Sleep Trial
Core Products offers a 90-day satisfaction guarantee. During the first 90 days you own one of their products, including the Tri-Core Cervical Pillow, you can return it for a full refund if you are unsatisfied for any reason, including comfort preferences.
Warranty Coverage
If there's a problem with your pillow after the first 90 days, you may be able to get a new one through the Core Products warranty. The Tri-Core Cervical Pillow is under warranty for the first year. According to their website, this warranty covers any "defects in materials and workmanship."
Tri-Core Pillow FAQs
Is the Tri-Core Cervical Pillow hypoallergenic?
The website does not say anything about this pillow being hypoallergenic, so if you have serious allergies, this may not be the pillow for you. If your allergies are moderate to mild, however, you can always get an allergy-specific pillow protector, and that should help. All three sizes of the Tri-Core Cervical Pillow fit into a standard pillowcase.
Is the Tri-Core Cervical Pillow the same size as a standard size pillow?
The full-size Tri-Core Cervical Pillow is slightly smaller than a standard size pillow, and the mid-size and petite versions are even smaller.
Is the Tri-Core Cervical Pillow good for neck injuries?
You should always check with your doctor before trying a new product for treating injuries, but because this fiber support pillow offers standard support for the neck muscles, it could definitely be a good fit for some neck injuries.
See CoreProducts.com (link) for more FAQs.
The Nerd's Final Take
The Tri-Core Cervical Pillow was designed for a very specific type of sleeper: someone who sleeps on their back or on their side and whose top priority is reducing their neck pain. This pillow is too firm for many, and some customers report that they regularly have to replace it after less than a year, but its firm support can go a long way toward reducing and preventing neck pain. If you love the soft feel of traditional pillows or if you sleep on your stomach, this pillow probably isn't for you, but if you're ready to take the next step toward treating your neck pain, the Tri-Core Cervical Pillow could make quite a difference.