The Mattress Nerd's Take: The DreamCloud is a memory foam pillow designed for optimal neck support. This is a medium-firm pillow made with cooling properties that deliver on the traditional contouring benefits of memory foam, without trapping heat. After testing, we've decided the DreamCloud pillow is an ideal choice for the average-weight stomach sleeper.
Who It's Good For
Hot sleepers

Back sleepers

Stomach sleepers
Who It's Not Good For
DreamCloud Pillow Video Review
Don't feel like reading? No problem! Watch our in-depth review of the DreamCloud Pillow to find out about its' construction, feel, pros/cons and FAQs!
Look Inside
Polyethylene Blend Cover: The DreamCloud pillow comes equipped with a polyethylene blend cover (53 percent Polyethylene, 46 percent Polyester, and one percent Spandex), which means the materials will stay cool to the touch throughout the night and leave you feeling comfortable, not hot.
CopperGel-Infused Memory Foam: The inside of the DreamCloud is made up entirely of solid gel memory foam that will keep your head cradled and supported all night long, without compirisinging its shape. Don't worry about ever having to fluff this pillow. It's also cased in a nylon cover as a support layer of foam protection. For more memory foam pillow options, check out the best memory foam pillows.
Mattress Nerd Pillow Scores
There are multiple features to consider when making your pillow-buying decision. So, to make it a little easier for you, we broke down all the "must-know" categories. We also rated the most important features on a scale from 1–5 (5 being the best) to help guide you through the process.
Cooling: 5/5
The DreamCloud pillow cover is made with a polyethylene blend, specifically designed to keep you cool. The cover comes in a smooth-to-the-touch, quilted design. You immediately feel the cooling properties with each new touch.
I tested this pillow both at night and as lumbar support while I worked, and noticed that the polyethylene blend never retained any heat and kept me feeling very comfortable in both scenarios—which was impressive to me (an occasional hot sleeper). I love the feel of the "cool side of the pillow," and I was pleasantly surprised to have that experience throughout the night.
Given this is a memory foam pillow and that would typically trap heat, the polyethylene cover came in the clutch and did it's job keeping this pillow cool while also giving you memory foam support (score!). If you are looking to sleep cool, see the best pillows for hot sleepers.
Alignment: 3.5/5
The DreamCloud pillow was designed to cradle your head—they even used special memory foam technology to give you the full neck support needed to maintain a deep sleep and alleviate any soreness or pain in your shoulders. I'd say that was true if you're a back or stomach sleeper. In both positions, my head, neck and shoulders felt adequately supported and comfortable.
However, if you're a side sleeper, you're not going to experience enough loft with this pillow to feel supported throughout the night unless you are on the petite side. For someone with an average body type, or if you're on the larger size, you could combat this issue by folding the pillow in half and doubling up on the loft.
Adjustability: 5/5
The DreamCloud pillow's memory foam insert is not very dense or heavy. Unlike traditional memory foam pillows, this pillow's block has holes punctured into it for optimal airflow and flexibility. While it does contour nicely to the body, it doesn't provide that same hugging effect that I've experienced from other more traditional, high-density memory foam pillows.
The DreamCloud is very malleable, so if you like to bend your pillow and adjust it into a folded position, you can do that with this pillow for added support. That's especially important for side sleepers who may feel as if this pillow is too flat for comfort in its regular position.
This pillow has a medium firmness level on the firmness scale.
Quality of Materials: 4.5/5
In testing this pillow, I noticed the quality of the materials right off the bat. The cooling properties of the polyethylene blend cover are apparent throughout your entire use. Plus, the quilted design and feel of the fabric gave me that comfort layer, luxury feel, which is important considering the price of the pillow.
As for the three lbs of CopperGel-infused memory foam insert, this pillow is made to be durable and last. The foam block is protected by a nylon casing, ensuring that the foam keeps its shape and protects the punctured holes, designed for airflow, from ripping or getting damaged from use.
The intention behind the breathability design of the memory foam is another point of quality that makes this pillow worth the purchase. However, I docked a half point for no mention of eco-friendly or non-toxic materials in this product's makeup.
Care: 1/5
The DreamCloud pillow is made up of a removable, polyethylene blend cover. You cannot machine wash or dry the cover, you can only spot clean it.
Customer Experience: 2/5
You can reach DreamCloud Sleep's customer service team through their email, through a chat feature on their website, or by calling their service number: seven days a week from 8 am to 4 pm PST. They offer free shipping and returns within their 50-night trial period.
Although DreamCloud offers easy access to their customer service, their sleep trial is less than the industry standard of 100 nights, and they don't offer a warranty.
Total Score: 3.5/5
Side Sleeping
In my personal experience, the DreamCloud pillow had too low of a loft to be comfortable while sleeping on my side. When I left the pillow flat and tried to get comfortable, I felt my shoulders were way too caved in and my head and neck were not supported enough to my liking.
So, if you are of average to heavy body weight, I would not recommend this pillow for every night use. That being said, the DreamCloud is very flexible, so you could add extra support by folding it in half and doubling the loft for added support to your head, neck and shoulders. For more fitting options, check out the best pillows for side sleepers.
Back Sleeping
For back sleepers, it's crucial you find a pillow that keeps your spine aligned, in order to avoid any morning back pain or aggravated pressure points. The DreamCloud pillow is a great pillow for back sleepers.
Your head should feel cradled in the memory foam and the lower loft of the pillow should help keep your neck in alignment and cause pressure relief in your shoulders. Plus, if you tend to get hot around your neck and upper back while you sleep, the top layer of this pillow will keep your head cool throughout the night.
Stomach Sleeping
Finding the right pillow for your position can get tricky, but let me tell you, this pillow is definitely one of the best pillows for stomach sleepers. The loft is low enough that your neck will be in a safe, neutral position, while the memory foam will provide comfortable and stable support for your head with a touch of cooling relief to the skin.
| | | |
| --- | --- | --- |
| Score for Side Sleepers | Score for Stomach Sleepers | Score for Back Sleepers |
| 2.5/5 | 5/5 | 4/5 |
Pros/Cons
Pros
Cool surface:

the polyethylene blend cover on

the DreamCloud

provides a cool to the touch surface with every new stroke of the fabric. For those who like always having a "cool side of the pillow," you'll get that here.

Adjustability:

This pillow's ability to be adjusted into any shape you want makes it versatile for not only sleeping but also lying on the couch or as added lumbar support in a chair.

Keeps its shape:

The gel-infused

memory foam

is meant to stay plump regardless of repetitive use.

Size options:

Comes in two sizes, standard (

Queen size

) and King.
Cons
Expensive:

This pillow is on the pricier side at about $100 depending on the size.

Not for side sleepers:

If you're a

side sleeper

, you might have to adjust this pillow into a more supportive position and for that, it might be more hassle than it's worth.

Not machine washable:

The DreamCloud pillow

cover is not machine washable. So, if you have allergies or hypoallergenic concerns, I would not recommend this pillow to you.
Sizing, Pricing, and Policies
| | | |
| --- | --- | --- |
| Size | Dimensions | Price |
| Standard | 16" x 25" x 5.5 | $99 |
| King | 16" x 32" x 5.5 | $129 |
Shipping
The DreamCloud pillow ships for free within the United States. They do not ship internationally. For larger items like a DreamCloud mattress, or bed frame, the company charges an additional $150 fee for large item shipments to Alaska and Hawaii.
Sleep Trial
You can test out your DreamCloud pillow at home for 50 nights. During that time period, if you decide you no longer want your pillow, you can return it for free and receive a full refund.
Warranty Coverage
DreamCloud does not offer warranties for their pillows. As for their mattresses, the company does offer a Lifetime warranty. If you're interested in purchasing one of their mattresses, check out our DreamCloud Mattress review.
DreamCloud Pillow FAQs
Does DreamCloud offer financing?
Yes! DreamCloud offers financing for all of their products via Affirm.
Does DreamCloud ship internationally?
Currently, the company only ships to the contiguous United States, not including Puerto Rico, the Virgin Islands, Guam, etc. They do ship to Alaska and Hawaii, but you'll have to pay an additional shipping fee of $150 per large item (like mattresses and bed frames, not pillows or bedding accessories).
What is DreamCloud best known for?
DreamCloud is a luxury mattress and bedding company. They sell a variety of different mattresses, including the DreamCloud Hybrid mattress, the DreamCloud Premier mattress, and DreamCloud Premier Rest. They offer 365-night trials, as well as white glove service, for an additional fee. Check out their mattresses for features like cashmere blend euro tops and great edge support, and see how they line up to other brands like Saatva and Nectar.
The Nerd's Final Take
If you're ready to upgrade your sleeping experience, the DreamCloud pillow is a great choice to get you started. Ideally, this pillow is for someone who enjoys a high-quality, flatter pillow, like back and stomach sleepers, and needs features like cooling and flexibility.
Overall, I felt like the DreamCloud offered a great level of comfort and contouring benefits that worked, not only for sleeping, but also when relaxing on the couch, or for lower back support for a desk chair as well. But if you're a side sleeper, I would look for a pillow with a higher loft so your neck is aligned properly. This pillow may be too flat for you.
If it's in your price range and it's right for your sleeping position, I say it's a great choice.
Starting at $1,598
DreamCloud Mattress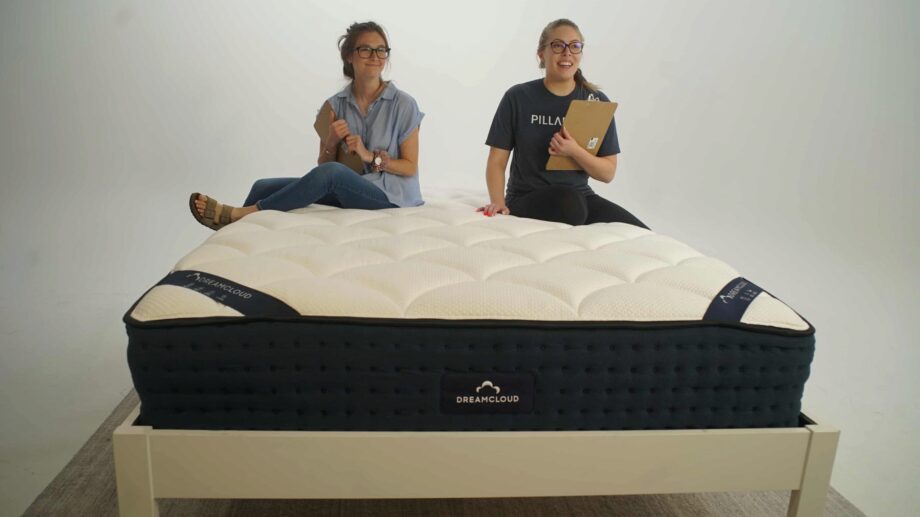 Starting at $1,998
DreamCloud Premier Mattress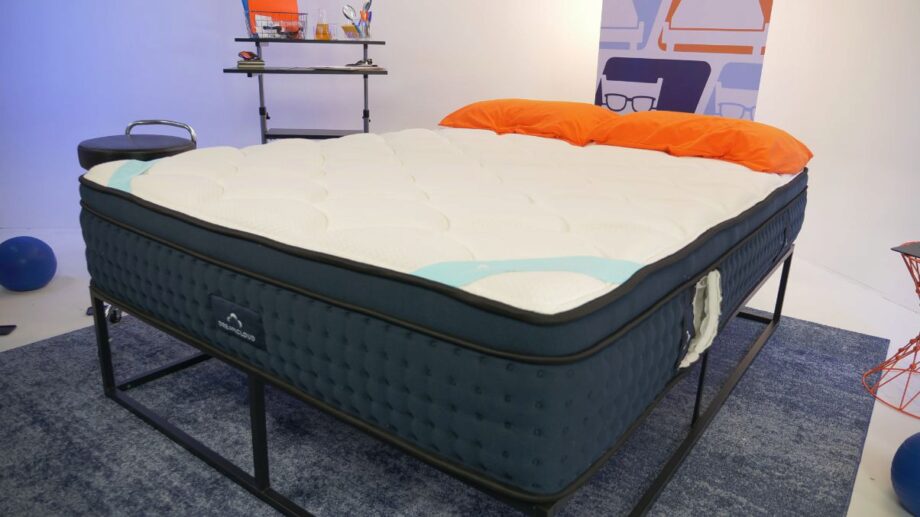 Starting at $2,198
DreamCloud Premier Rest Mattress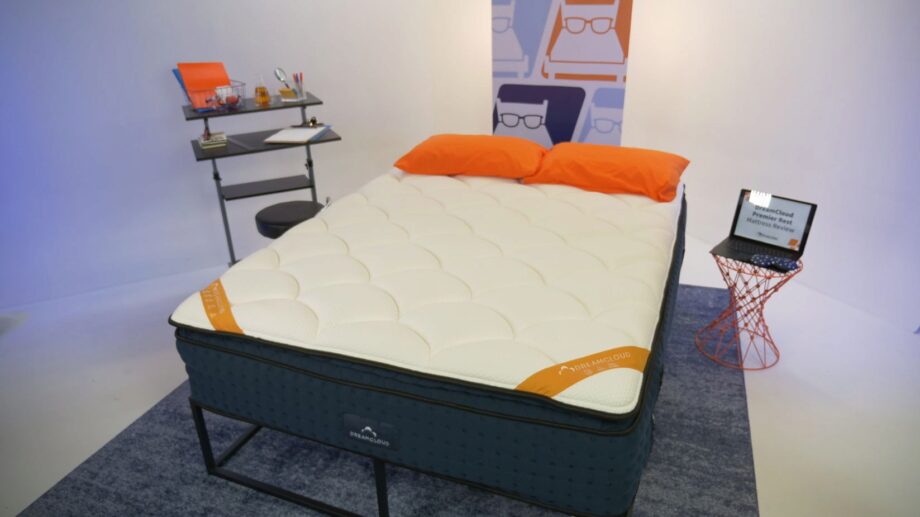 JUMP TO
Who It's Good For
Who It's Not Good For
DreamCloud Pillow Video Review
Look Inside
Mattress Nerd Pillow Scores
Pros/Cons
Sizing, Pricing, and Policies
DreamCloud Pillow FAQs
The Nerd's Final Take