Tempur-Neck Pillow Review
The Mattress Nerd's Take: If you experience neck pain, the Tempur-Neck from Tempur-Pedic provides personalized support to the area through its ergonomic design. This pillow was made for back and side sleepers specifically, and comes in three sizes that correspond with your body measurements.
Who It's Good For
Back sleepers

Side sleepers

Those with neck pain

Side and back combination sleepers

All body sizes
Who It's Not Good For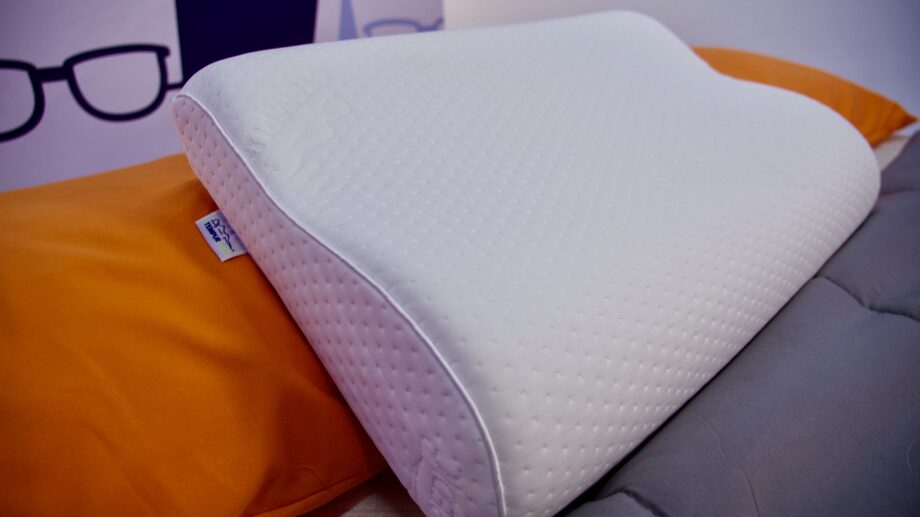 Tempur-Neck Pillow Video Review
Don't have time to read? Watch our video review instead!
Look Inside
Cover/Outward appearance
This pillow comes with a removable, breathable polyester knit cover. The ergonomic shape naturally cradles your head and neck to provide ultimate spinal alignment as you lie down.
Tempur-Material memory foam insert
The solid block of memory foam inside the pillow is shaped to cradle your head and neck. It's covered by a stretchy casing to protect the foam. The overall feel of the foam is firm, so don't expect a traditional memory foam feel. Instead, it will feel extra supportive.
Mattress Nerd Pillow Scores
At Mattress Nerd, we are dedicated to giving you unbiased and honest opinions on the products we review. We compare every product against the following categories and rate them on a scale from 1–5, with 5 being the best.
Cooling: 2/5
The core of this pillow is a solid block of memory foam, which is notorious for trapping heat. Plus, this pillow doesn't come with any specific "cooling" features besides a breathable cover with perforations to promote airflow. So, if you sleep hot, you may experience overheating throughout the night.
For more cooling pillow options, check out our Best Cooling Pillow Guide.
Alignment: 5/5
As long as you are using this pillow in the sleeping positions it's designed for, which is your back and side, then you will achieve spinal alignment. Since this model comes with the ergonomic shape, it's specifically made to cater to your natural curve.
Adjustability: 1/5
Due to the design, the Tempur-Neck comes in a firm ergonomic design and can't be adjusted. You can't manipulate the shape, fluff it, or flatten it.
Quality of Materials: 5/5
One thing you can expect with a Tempur-Pedic product, is the quality of their materials. Hence the price. This pillow is made with durable materials, like a 100% polyester knit hypoallergenic cover and Tempur-Pedic's patented memory foam, that are expected to hold up for years with good care.
Care: 4.5/5
The Tempur-Neck comes with a removable, machine washable cover for easy upkeep. The only downside is you can't wash the memory foam core of this pillow, but that's pretty standard with most pillows. Overall, this pillow can be easily cleaned.
Customer Experience: 3.5/5
Tempur-Pedic offers an online chat feature on their website, access to customer service and product experts via phone, and in person showrooms throughout the United States.
However, as for product policy, Tempur-Pedic do not allow for returns or exchanges on their pillows. The company does not honor these requests unless there is a defect upon delivery. So you can't just try out the pillow to see how you'll like it. It's a financial commitment once you buy. Therefore, I took some points off their overall score.
Total Score: 3.5/5
Side Sleeping
If sleeping on your side, your face will comfortably fit in between that divot created by the head and neck supports so that you feel supported everywhere you need to be. This pillow doesn't have a very high loft, so I docked it one point for that, but if you can handle the lower profile, this pillow will provide you with great spinal alignment.
Back Sleeping
Back sleepers, your head will lie perfectly in between the upper head and neck supports, giving you the ultimate cradled feeling. The pillow cuts off at the perfect spot so your shoulders will also have enough space to comfortably lie flat, too.
Stomach Sleeping
This pillow was not designed for stomach sleepers due to the ergonomic head/neck design.
| | | |
| --- | --- | --- |
| Score for Side Sleepers | Score for Stomach Sleepers | Score for Back Sleepers |
| 4/5 | 1/5 | 5/5 |
Pros/Cons
Pros
Great for those with neck pain: I

f you've been looking for something to alleviate those aches and the tightness in your neck and shoulder area, this pillow is designed to help mitigate those pains.

Caters to your body shape for perfect alignment:

Thanks to the ergonomic shape, this pillow perfectly cradles your neck and head for optimal support.

5 year warranty:

This is a uniquely long warranty, considering not too many pillows come with a warranty this long, or one at all!
Cons
Won't work for stomach sleepers:

The ergonomic design would not be comfortable at all for stomach sleepers who go face first onto their pillow.

May be too firm:

if you're looking for something soft or down-like, this won't be the pillow for you.

No exceptions for returns/exchanges:

Tempur-Pedic does not allow returns, even if you were to mis-measure and buy the wrong size pillow, they will not honor your return request (and yes, I asked).
Sizing, Pricing, and Policies
| | | |
| --- | --- | --- |
| Size | Dimensions | Price |
| Small | 20 x 12.5 x 3.5 | $109 |
| Medium | 20 x 12.5 x 4 | $119 |
| Large | 20 x 12.5 x 4.75 | $149 |
To figure out the best size for you, just place a ruler perpendicular to your neck and measure the distance from the base of your neck to the outside edge of your shoulder. If your measurement is between two sizes, choose the smaller size.
| | | |
| --- | --- | --- |
| Neck to Shoulder | Side Sleeper | Back Sleeper |
| up to 4" | Small | Small |
| 4-6" | Medium | Small |
| 6-10" | Large | Medium |
| over 10" | Large | Large |
Shipping
Tempur-Pedic offers complimentary free shipping on all their accessories. Products are shipped through UPS ground shipping for free, and typically arrive within 5-7 business days, to locations in the contiguous US. The company is unable to ship items to a P.O. Box.
If you are shipping to Alaska, Hawaii, Puerto Rico and other US Territories, Tempur-Pedic offers standard shipping for all comfort items for $25 per order.
Sleep Trial
The company does not offer a trial period for their pillows since it is a personal use item.
Returns/Exchanges
Tempur-Pedic does not offer returns or exchanges on their accessories. They only allow returns if the item is damaged when delivered or if there is a product defect. So you can't just buy the product and return it, or exchange it for another pillow, if you don't like it.
Warranty Coverage
Tempur-Pedic pillows are covered under a 5-year limited warranty. In order to ensure the smoothest warranty claim process, the company suggests registering your product, once you receive it, on their website here. Within that 5 year span of the warranty, if your pillow needs to be replaced, you can file a claim. To file a claim, you'll need the following information:
Purchase receipt or a bank statement showing the purchase

Product law tag

Photos of the product

Product in full view without bedding

Close up view of the defective area

Purchase receipt

Law tag
FAQs
What are the care instructions for the Tempur-Neck?
The cover of your Tempur-Neck is removable and can be watched in the washing machine. However, do not wash the pillow core, or you will mess up the memory foam!
Are TempurPedic pillows worth the money?
We think so. This is a subjective question, but customers rave about how much relief they felt after using this pillow. Personally, I think you should never skimp on your pillow because it's so important for healthy sleep, but you're the ultimate judge of that.
Which Tempur-Pedic pillow is the best?
Again, this will depend on what you're looking for in a pillow. We think this model is the best for neck pain, but if you want to learn more about other Tempur-Pedic pillow options, you can check out our Tempur-Pedic pillow roundup or go to mattressnerd.com to learn more!
The Nerd's Final Take
I think this Tempur-Neck is worth the buy if you experience neck pain and have been looking for some relief. The ergonomic design is perfect for providing you with ultimate support in your head and neck areas. However, it only works for back and side sleepers— so it's definitely not for everyone. This pillow doesn't have a traditional look or feel, it's very specialized. That being said, if you fall within the profile that works best for this pillow, then I'd recommend it.
Starting at $899
Tempur-Pedic Base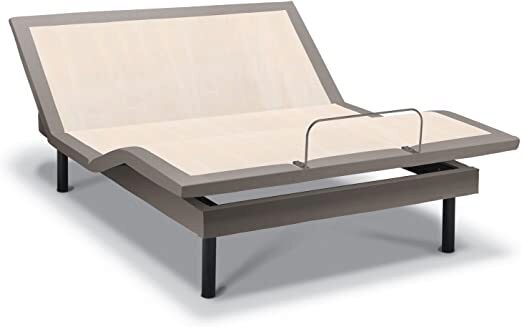 Starting at $89
Tempur-Cloud Pillow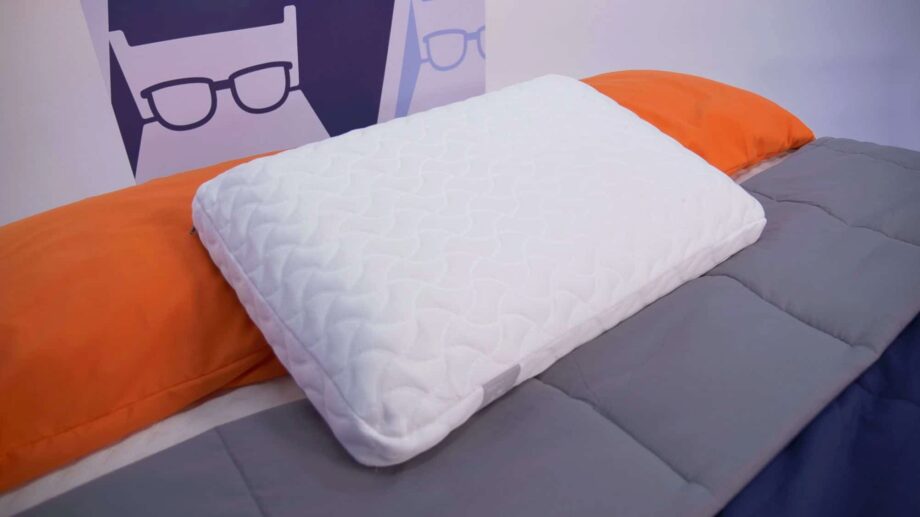 Starting at $399
TEMPUR-Topper Supreme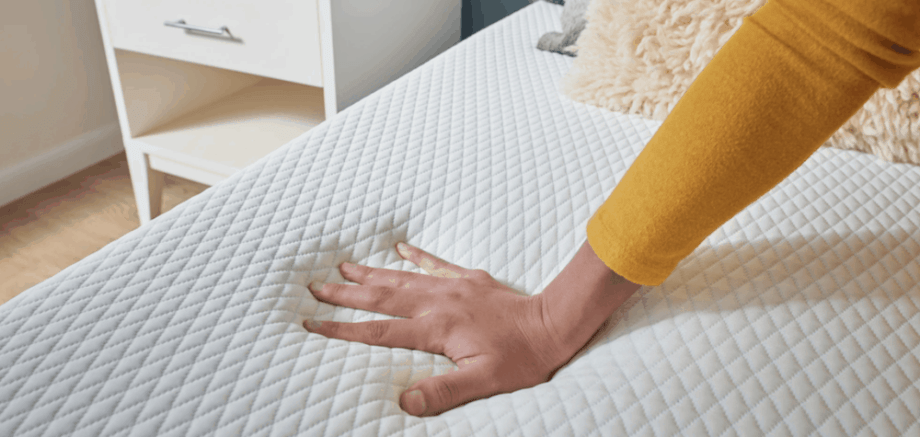 JUMP TO
Who It's Good For
Who It's Not Good For
Tempur-Neck Pillow Video Review
Look Inside
Mattress Nerd Pillow Scores
Pros/Cons
Sizing, Pricing, and Policies
FAQs
The Nerd's Final Take